Other Charitable Items You Can Bring
on an African Safari
In addition to solar powered lamps, there are different types of charitable items that you can bring with you on an African safari.
School Supplies

In addition to the standard paper, pencils, sharpeners, solar powered calculators, etc. that are always welcomed; you may want to consider items relating to personal hygiene. Such items might include tooth brushes, tooth pastes, first aid supplies, etc.
Recreational Equipment

If you want to bring some recreational equipment, try and stick with soccer balls and maybe a few Frisbees, which seemed to catch on fast. Try and stay away from anything that is foreign to Africa. Whether it is basketball, football, volleyball, baseball, they will end up kicking it like a soccer ball. If you do bring some soccer balls, be sure to bring a couple of pumps and a supply of pins for the pumps. Remember, the school you will be visiting is most likely located in a very remote area, and you won't find a Sports Authority down the street.
Solar Powered Lamps
Solar powered lamps are purchased with your Safari vacation and will be delivered directly to your hotel before you arrive in Africa, ready for you to take to the school of your choice. It is not feasible to bring solar powered lamps from home as they are too bulky. Therefore, we arrange for the lamps to be with you when you start your African Safari.
For more ideas on what to bring we recommend you go to www.packforapurpose.org. Their recommendations are school specific, but you can get some very useful ideas.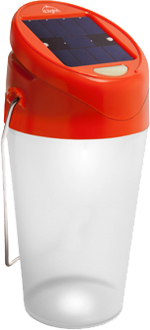 Solar powered lamps improve the daily lives of children and adults in rural communities in Africa by providing clean and healthy lighting. This is accomplished by replacing dangerous and polluting kerosene lamps with lamps powered by the sun.