African Safaris and the Gift of
Solar Powered Lamps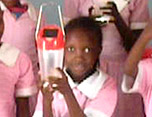 Solar powered lamps improve the daily lives of children and adults in rural communities in Africa by providing clean and healthy lighting. This is accomplished by replacing dangerous and polluting kerosene lamps with lamps powered by the sun. These solar lights enable children to study at night and adults to extend their workday, all the while eliminating carbon emissions, improving household health, and increasing a family's standard of living.
We have partnered with d.light and Sollatek, the manufacturer and distributor of the solar powered lamps respectively, to deliver lamps to our Travel Partners or Hotel Partners as appropriate. As part of your customized safari they will arrange for you to make a stop at a local school, where you can personally donate the lamps. You can decide how many lamps you will like to donate and the cost will simply be added to the final cost of your safari. The lamps will be in your van as you leave on safari, ready for you to deliver. It's that simple! You will be amazed how adding as little as 1% or 2% to the cost of your safari can make such a profound difference in the lives of children.
School children at the Osiligi School say Thank You to Lenore, a donator of solar powered lamps, for her gift of lamps to the School.