African Charities We Support
If you who have been on an African Safari and have donated Solar Powered Lamps and other items, but would like to do more, African Safaris and Charitable Giving (Safari Samaritan) has partnered with and supports several African charities. Donations to these charities are tax deductible. We present them here for your consideration.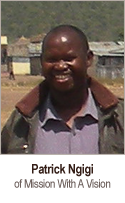 While on an African Safari in Kenya in July 2013, we had the good fortune to meet Patrick Ngigi. We visited both his Osiligi School and his Safe House for girls at risk. We donated Solar Powered Lamps at each location. Patrick is clearly a man who has dedicated his life to saving the younger generation in Kenya; one child at a time.
Whether you would like to make a large or small tax deductible donation, you can't go wrong contributing to Mission with a Vision.