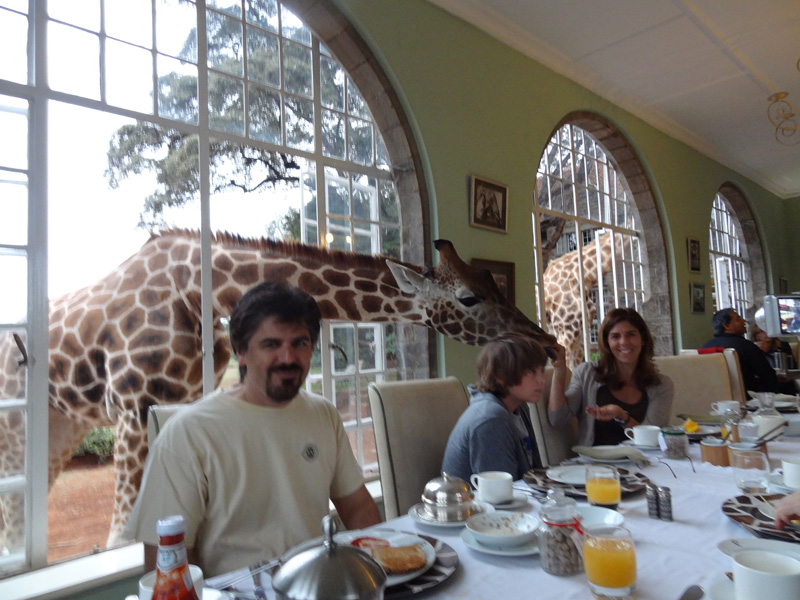 If you are coming from North America, you have a long way to travel for a safari in Africa. Even if you have very convenient flights (we flew non stop from Washington Dulles to Addis Ababa in 13 hours), if you add up the time you spent driving to the airport, getting there 3 hours early for an international flight, the layover in Addis Ababa, the flight from there to Nairobi, and then the drive from the airport to your hotel, you're looking at approximately 24 hours. With a convenient late morning flight, that gets you to your hotel in mid afternoon the next day. Therefore, it is important to stay at a good hotel where you can relax until the start of your safari.
We stayed 2 nights at the Giraffe Manor. After we arrived and got oriented and settled, they fed us a very late afternoon lunch. This was followed by an even later dinner. They gladly catered to all our needs.  The word "no" was not part of their vocabulary.
To start our safari at 9:00 the next morning would have been a little too hectic. Instead we spent a relaxing day; not that there weren't things to do. Some in our group went to the elephant orphanage, others to the bead factory, and there was always time to interact with the giraffes. All the other guests at the manor stayed only one night and every one of them said they had wished they had stayed for 2 nights. After one last interaction with the giraffes at breakfast the next morning, we were ready to start our safari.
If you can afford the extra day and additional cost, 2 nights at a comfortable hotel is a great way to start your safari.