Pumulani, Lake Malawi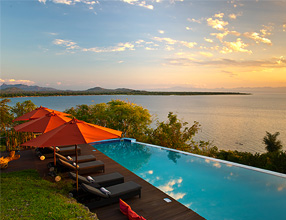 Pumulani is subtly nestled in the lush hills amongst the trees and craggy outcrops, overlooking the romantically named Lake of Stars – Lake Malawi. The lodge offers the perfect mix for a memorable holiday; enjoy being active or simply relax in the beautiful and tranquil scenery.

Mkulumadzi, Majete Wildlife Reserve, Malawi

Surrounded by 7,000 hectares of private concession, Mkulumadzi enjoys an idyllic location at the confluence of two rivers shaded by giant leadwood trees in Malawi's only Big 5 reserve. It is the perfect combination of splendid isolation and first-class facilities.